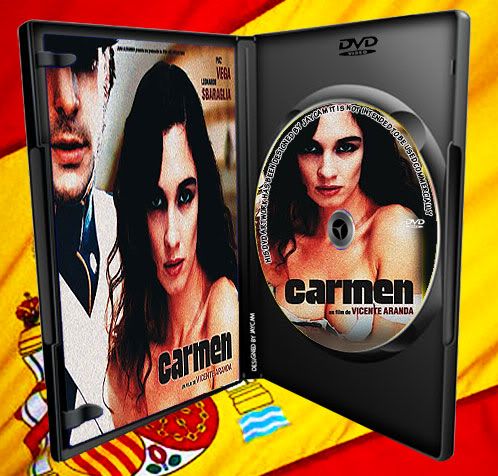 Carmen (Dvd-R, Dvd-5, NTSC) [2003] Vicente Aranda
Director: Vicente Aranda | Writer: Vicente Aranda & Joaquín Jordá (Novela: Prosper Mérimée) | Music: José Nieto | Cinematography: Paco Femenía | Cast: Paz Vega, Leonardo Sbaraglia, Antonio Dechent, Joan Crosas, Jay Benedict, Joe Mackay, Josep Linuesa, María Botto, William Armstrong, Julio Vélez, Emilio Linder, Miguel A. Valcárcel, Ginés García Millán, Susi Sánchez, Paula Echevarría | Runtime: 119 Min | Genre: Drama, Romance, Crime, Foreign | Format: Dvd-5, Color, NTSC | Country: España
Dvd-5 Information:
Source: Dvd5 | Extras: Yes, included | Runtime: 119 Min | Video Info: NTSC VIDEO_TS; Aspect Ratio: 16:9 Widescreen @:35:1 | Audio Info: Spanish 2.0 Dolby Digital | Subtitles English & Spanish | Scene Selections | LionsgateTrailers
Code
Ref IMDB: www.imdb.com/title/tt0352230/
Synopsis: On a journey through Spain, the French writer Prosper Merimee (Jay Benedict) is forced by fate to be the witness of a story of passion. The free, enigmatic nature of a woman called Carmen (Paz Vega), her southern beauty, her passionate, impulsive character turn the sergeant, Jose (Leonardo Sbaraglia), into the victim and protagonist of a fatalistic chain of extraordinary events, turbulent loves, uncontrollable passions, jealousy and bloodshed. Aranda brilliantly casts Spains manliest actress of the moment Paz Vega to play Carmen in the kind of steamy role she revels in, with one of the most popular actors in Latin American Cinema today, Leonardo Sbaraglia (Intacto, Utopia) playing the role of Jose.
Files split with WinRar, no password.
Dlc container with links
Code
http://www.fileserve.com/file/nd7PF7S