The Stendhal Syndrome (1996)
DVDrip | XviD-1204 | mp3@192 | 672x368 | 2 Audio Tracks:
English_1 French_2
| Sub: French (idx/sub) |
DVD Cover & Sticker
| 1h53 | 1.3 Gb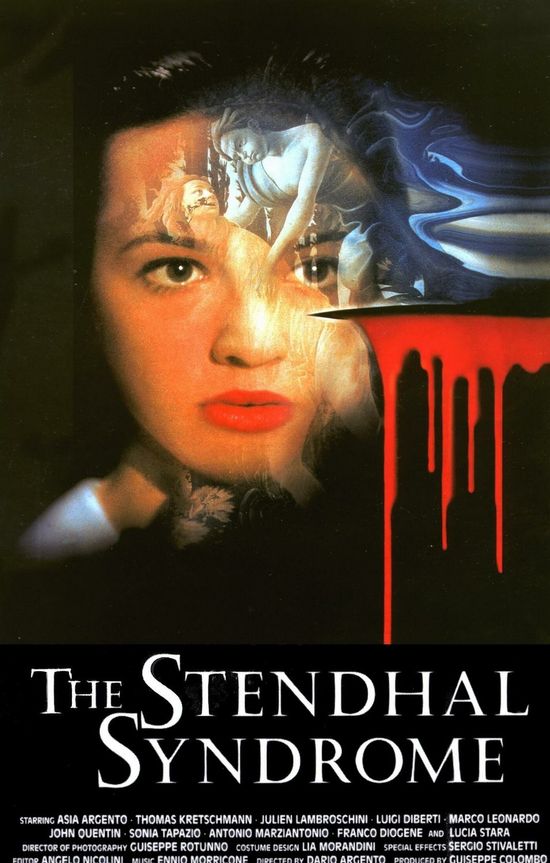 Crime, Thriller | Italy 26 July 1996 | Director Dario ARGENTO
Cast
* Asia Argento as Det. Anna Manni
* Thomas Kretschmann as Alfredo Grossi
* Marco Leonardi as Marco Longhi
* Luigi Diberti as Insp. Manetti
* Paolo Bonacelli as Dr. Cavanna
* Julien Lambroschini as Marie
* John Quentin as Anna's father
For the Frenchies
Code:
http://hattori-hanzo.over-blog.com/article-le-syndrome-de-stendhal-dario-argento-1996-51099679.html
The title affliction causes sufferers to react to paintings in extreme and bizarre ways. In the case of police detective Anna Manni, she swoons and feels herself entering hallucinatory versions of the artwork she sees. This Italian psychothriller contains dark elements of horror as Manni tries to capture a murderous serial rapist. The lady detective is first seen walking the art-filled hallways of the Uffizi Gallery in Florence. The great paintings have a terrible effect upon her and she ends up having one of her surreal visions after fainting in front of Brueghel's "The Flight of Icarus." She sees herself falling through the painting's deep ocean and is only saved by the hands of Alfredo, a stranger who saw her fall. She returns woozily to her hotel. Her memory has temporarily lapsed, and once in her room she finds herself similarly mesmerized by a painting on the wall, but eventually she remembers her assignment. Unfortunately, when she meets up with Alfredo again, he attacks and rapes her. He then forces her to watch while he rapes and murders another. She manages to escape and make it back to Rome where she begins seeing a psychiatrist. Her former lover Marco also makes sure she is guarded 24-hours a day. Unfortunately for Anna it is not enough, and Alfredo strikes again.
~
Sandra Brennan, All Movie Guide
More about (English)
Code:
http://en.wikipedia.org/wiki/The_Stendhal_Syndrome
IMDB
Code:
http://www.imdb.com/title/tt0117658/
Screenshots MPC
Code:
http://www.multiup.org/d7b0774ea100eba626b625e8a07f472d
no pass