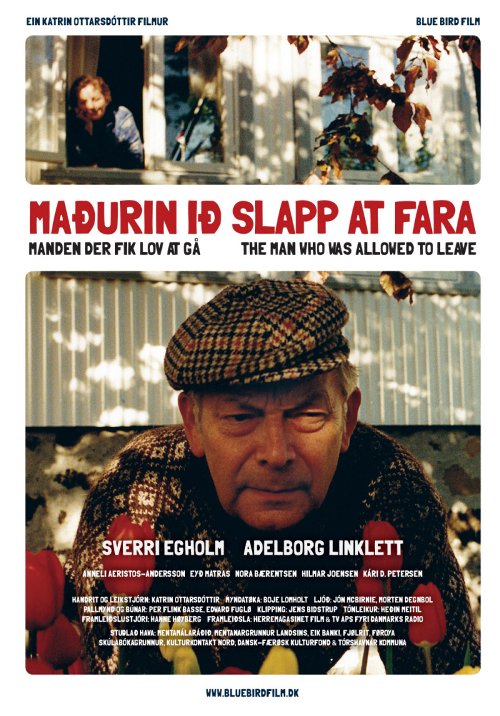 Maðurin ið slapp at fara [The Man Who Was Allowed to Leave] (1995) Katrin Ottarsdóttir
Genre
: Comedy, Drama
Director
: Katrin Ottarsdóttir
Cast
: Sverri Egholm, Adelborg Linklett, Anneli Aeristos-Andersson
Country
: Faroe Islands, Denmark
Language
: Faroese, Danish
Subtitles
: English (embedded in mkv file)
Aspect Ratio
: 1.66:1
Length
: 56 min
File
: DVDRip h.264 AAC MKV - 660x576 - 25fps - 600 MB
THE MAN WHO WAS ALLOWED TO LEAVE is a sad comedy from the Faroe Islands - but not
that
sad, though.
An elderly man one day realises that he will leave his wife for the much younger Maria.
His wife reacts stoically. She is neither angry nor unhappy but thinks he should be allowed to sow a few wild oats. She is convinced that he will come to his senses and return to her bosom.
He does - but not quite in the way she had imagined...
IMDb:
Code:
http://www.imdb.com/title/tt0113761/
Trailer:
Code:
https://www.youtube.com/watch?v=qq8taeDUU6c
Download
Oboom:
Code:
https://www.oboom.com/HF2RV41G/misaf-tmwwatl.part1.rar
https://www.oboom.com/X5JRLY7X/misaf-tmwwatl.part2.rar
https://www.oboom.com/QFVSZ5BJ/misaf-tmwwatl.part3.rar
Share-Online:
Code:
http://www.share-online.biz/dl/50MMT6YOQU1
http://www.share-online.biz/dl/NHZKT6YO7S
http://www.share-online.biz/dl/PBZKT6YO25
Zippyshare:
Code:
http://www80.zippyshare.com/v/rvMBh9h3/file.html
http://www80.zippyshare.com/v/mYJxXB8w/file.html
http://www80.zippyshare.com/v/9tHZ6EsF/file.html