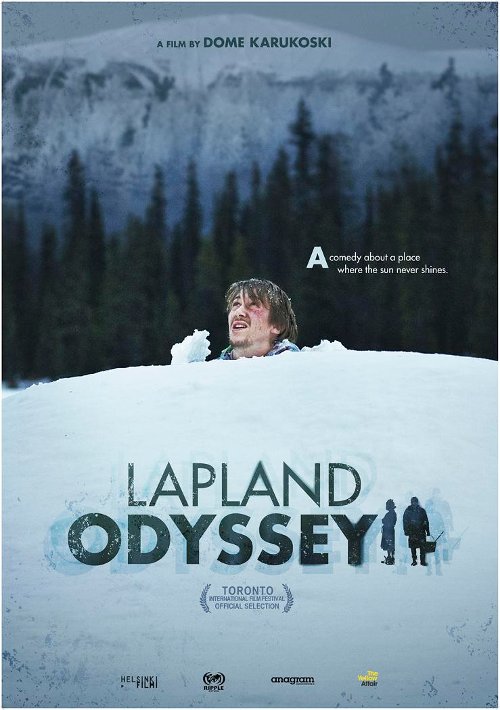 Napapiirin sankarit [Lapland Odyssey] (2010) Dome Karukoski
Genre
: Comedy, Drama, Romance
Director
: Dome Karukoski
Cast
: Jussi Vatanen, Jasper Pääkkönen, Timo Lavikainen, Pamela Tola, Kari Ketonen
Country
: Finland, Iceland, Sweden
Language
: Finnish, English, Swedish, Russian
Subtitles
: English (embedded in mkv file)
Aspect Ratio
: 2.35:1
Length
: 92 min
File
: DVDRip h.264 AAC MKV - 720x434 - 25fps - 1000 MB
Nothing is really working for Janne (Jussi Vatanen). When his common-law wife Inari (Pamela Tola) asks the man to get a cheap digital conversion box, he spends the money she gave on drinks with his two best friends Kapu (Jasper Pääkkönen) and Räihänen (Timo Lavikainen). Inari has had enough and gives him an ultimatum. She threatens to leave Janne and move to the south of Finland right away, if Janne doesn't find a conversion box by the next morning.
Janne and his friends hurl into an adventure that seems quite impossible. They have to get money for petrol and the box and finally find a store for domestic appliances selling a digital box at a reasonable price in the middle of the night. The three friends have to struggle hard to get an electrical device for Inari and above all to save Janne's happiness.
On the way to the nearest town, many variables occur, from killer lesbians and police raids to Inari's ex-boyfriend Little Mikko (Kari Ketonen). Having driven hundreds of miles, freezing, fighting and loosing several car doors, they at last find, each in his way, something essential. But is it enough to save Janne's relationship with Inari?
Winner of three Finnish Jussi Awards in 2011
IMDb:
Code:
http://www.imdb.com/title/tt1454505/
Trailer:
Code:
https://www.youtube.com/watch?v=KZD9S_KkHrg
Download
Oboom:
Code:
https://www.oboom.com/PI5DIOWZ/nasa-laod.part1.rar
https://www.oboom.com/XO73ATTM/nasa-laod.part2.rar
https://www.oboom.com/3K2A7OHQ/nasa-laod.part3.rar
https://www.oboom.com/4GE5LQ6H/nasa-laod.part4.rar
https://www.oboom.com/8DO65LOL/nasa-laod.part5.rar
Rapidgator:
Code:
https://rg.to/file/4a44a31d2ecb324810107852ab3418d6/nasa-laod.part1.rar.html
https://rg.to/file/596d7ceb970015b19e27dc1f115dcef4/nasa-laod.part2.rar.html
https://rg.to/file/1e6b98792e9dfaec0feca817df53b75c/nasa-laod.part3.rar.html
https://rg.to/file/05cbaf2dd91b70ab580b2e73e66ec210/nasa-laod.part4.rar.html
https://rg.to/file/342c85c1d677edf735a089982d6e0482/nasa-laod.part5.rar.html
Share-Online:
Code:
http://www.share-online.biz/dl/M6UJRY2PPL9T
http://www.share-online.biz/dl/XTS9RY2PHQ
http://www.share-online.biz/dl/R1AHRY2PVOZ
http://www.share-online.biz/dl/HGXGRY2PGP
http://www.share-online.biz/dl/ITOERY2PIP2
Zippyshare:
Code:
http://www4.zippyshare.com/v/mWF8OTk2/file.html
http://www4.zippyshare.com/v/1qBR1ARW/file.html
http://www4.zippyshare.com/v/iNCExjS6/file.html
http://www4.zippyshare.com/v/hmU859Md/file.html
http://www4.zippyshare.com/v/NlkdcjiY/file.html