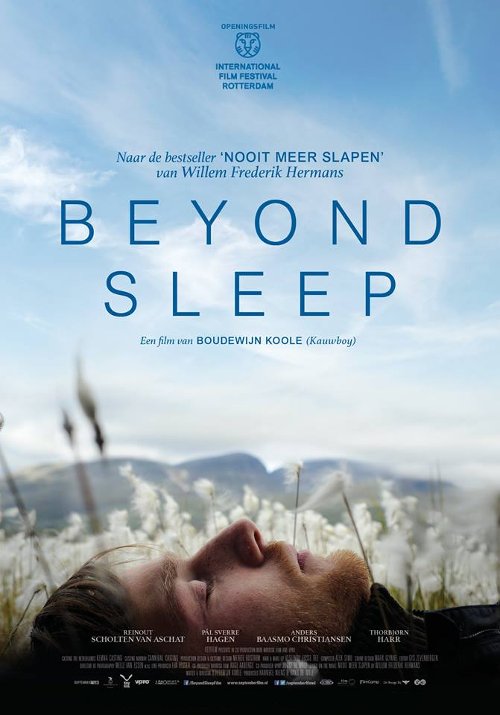 Beyond Sleep (2016) Boudewijn Koole
Genre
: Drama
Director
: Boudewijn Koole
Cast
: Reinout Scholten van Aschat, Pål Sverre Hagen, Anders Baasmo Christiansen
Country
: Netherlands, Norway
Language
: Norwegian, English, Dutch
Subtitles
: English (embedded in mkv file)
Aspect Ratio
: 2.40:1
Length
: 107 min
File
: BRRip h.264 AAC MKV - 720x302 - 25fps - 1000 MB
A young man's mythical quest for a stone that fell from the sky. He searches, stumbles and suffers as he traverses the sadistic universe of Northern Europe. He only finds redemption on the very edge of madness.
Geologist Alfred has given himself the task of proving the hypothesis that the peculiar round holes that can be found in Lapland are actually the result of meteorites. He joins a scientific expedition across the tundras of northern Norway, a journey that is plagued by setbacks from the start. His fellow geologists are so much better equipped in dealing with the brutal environment than he is. Mosquitoes keep him awake. Eventually, Alfred loses his com- pass, his companions, his faith, his bearings and his way.
Based on the iconic Dutch novel "Nooit meer slapen" by Willem Frederik Hermans.
IMDb:
Code:
http://www.imdb.com/title/tt4075458/
Trailer:
Code:
https://vimeo.com/155665968
Download Links
Share-Online:
Code:
http://www.share-online.biz/dl/H2BLH1TOT6U
http://www.share-online.biz/dl/QXNJH1TOO8D
http://www.share-online.biz/dl/DANJH1TO3ZX
http://www.share-online.biz/dl/4CXHH1TOO3VA
http://www.share-online.biz/dl/9G1IH1TOO9
Uploaded:
Code:
http://uploaded.net/file/fik7qdvd/byndslp.part1.rar
http://uploaded.net/file/rnmssgi4/byndslp.part2.rar
http://uploaded.net/file/st4iivei/byndslp.part3.rar
http://uploaded.net/file/ihrzvg7f/byndslp.part4.rar
http://uploaded.net/file/hifiq2n1/byndslp.part5.rar
Zippyshare:
Code:
http://www78.zippyshare.com/v/GsrD148d/file.html
http://www78.zippyshare.com/v/5BnnDonp/file.html
http://www78.zippyshare.com/v/JtgNGczv/file.html
http://www78.zippyshare.com/v/ZJojZTcb/file.html
http://www78.zippyshare.com/v/VVkNlJsW/file.html