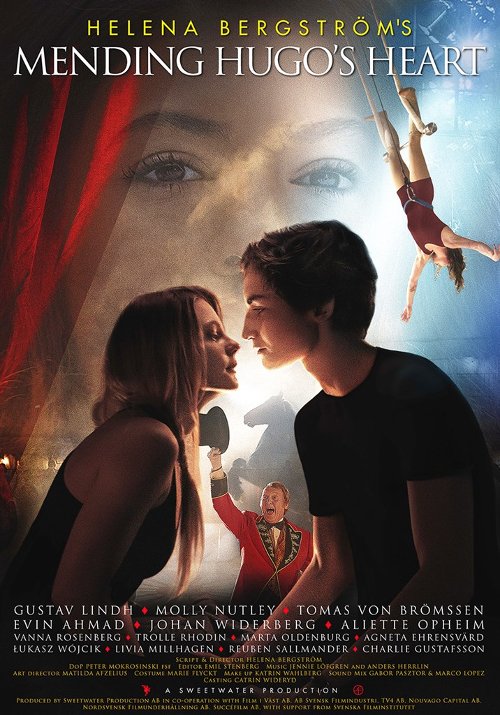 Vilken jävla cirkus [Mending Hugo's Heart] (2017) Helena Bergström
Genre
: Comedy, Drama
Director
: Helena Bergström
Cast
: Gustav Lindh, Molly Nutley, Tomas von Brömssen
Country
: Sweden
Language
: Swedish, English, French
Subtitles
: English (embedded in mkv file)
Aspect Ratio
: 2.40:1
Length
: 119 min
File
: WEBRip h.264 AAC MKV - 720x302 - 25fps - 1200 MB
Hugo lost his first love one year ago. Suddenly something completely unpredictable happens: he literally falls into a circus that's on its last legs.
Hugo has been treading water since he lost the love of his life, Agnes. With the world on his shoulders, going way too fast as usual, on a grey winter's day he swerves to avoid something on the road and crashes his bike. He falls headlong to the ground, passes out, and wakes up in the most curious and wondrous place – a circus carriage! It turns out to belong to the kind and slightly confused ringmaster Casall. A new world opens up to countless characters who live a life far beyond everyday life. A cook who can't actually cook, a seductive trapeze artist, a clown who is more angry than happy and ...beautiful, mysterious Anna. Who is she? What secret is she hiding? Slowly, the door curtain is pulled to reveal a new and different life. But does Hugo dare to take the step?
"Mending Hugo's Heart" is a warm, emotional and entertaining film where everyday life is turned upside down and the characters are forced to step out of their comfort zones. A film in true feel-good spirit about hope and love, about daring to let go and winning everything.
When magic collides with reality anything can happen.
IMDb:
Code:
http://www.imdb.com/title/tt7160394/
Trailer:
Code:
http://www.dailymotion.com/video/x6f3a1b
Download
Oboom:
Code:
https://www.oboom.com/UO29FCA2/vjc-mhh.part1.rar
https://www.oboom.com/YC6ITPN9/vjc-mhh.part2.rar
https://www.oboom.com/BHTQN9MJ/vjc-mhh.part3.rar
https://www.oboom.com/PILRUOU2/vjc-mhh.part4.rar
https://www.oboom.com/841XPNKV/vjc-mhh.part5.rar
https://www.oboom.com/ZQN47NF6/vjc-mhh.part6.rar
Rapidgator:
Code:
https://rg.to/file/24300be4949319b9c3da14901330060a/vjc-mhh.part1.rar.html
https://rg.to/file/f15544cb38a9418e347d2045fb82fe59/vjc-mhh.part2.rar.html
https://rg.to/file/7ca0dcb55643cefb2eefbe69f99643a7/vjc-mhh.part3.rar.html
https://rg.to/file/869e3ebd9afb50797c82d651677a3b87/vjc-mhh.part4.rar.html
https://rg.to/file/51b7e2cc05a12f2dfd9576532d78e792/vjc-mhh.part5.rar.html
https://rg.to/file/2e72af8a9c5ee599304b257c59dfd7af/vjc-mhh.part6.rar.html
Share-Online:
Code:
http://www.share-online.biz/dl/P6YJ6I4PGKVB
http://www.share-online.biz/dl/QNUG6I4PL5
http://www.share-online.biz/dl/44SG6I4PAY
http://www.share-online.biz/dl/WNPE6I4PTQ
http://www.share-online.biz/dl/PYVC6I4POA
http://www.share-online.biz/dl/7YCD6I4PRS
Zippyshare:
Code:
http://www82.zippyshare.com/v/rzDYXcYv/file.html
http://www82.zippyshare.com/v/o1VbfyRi/file.html
http://www82.zippyshare.com/v/In8Snvnp/file.html
http://www82.zippyshare.com/v/OtplEikW/file.html
http://www82.zippyshare.com/v/p0lZ1Lrl/file.html
http://www82.zippyshare.com/v/HFMqLwdD/file.html