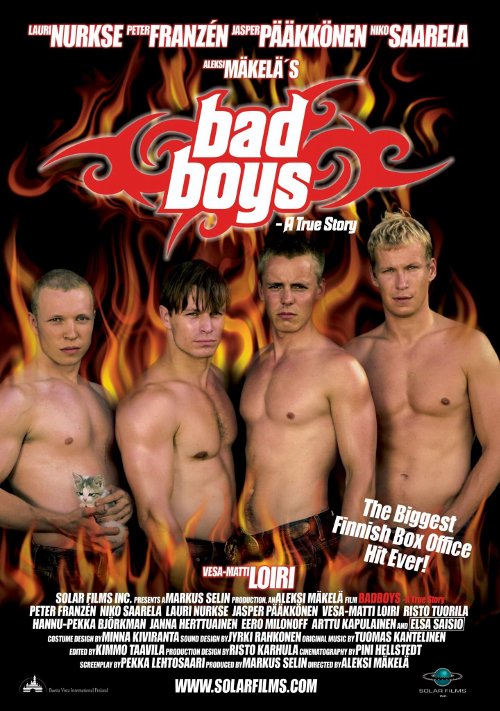 Paha pojat [Bad Boys] (2003) Aleksi Mäkelä
Genre
: Action, Biography, Crime
Director
: Aleksi Mäkelä
Cast
: Peter Franzén, Niko Saarela, Lauri Nurkse
Country
: Finland
Language
: Finnish
Subtitles
: English (embedded in mkv file)
Aspect Ratio
: 1.85:1
Length
: 121 min
File
: DVDRip h.264 AAC MKV - 720x552 - 25fps - 1200 MB
The Takkunen brothers are every mother's dream: they don't drink, smoke or curse – yet they have committed over a hundred robberies.
For their entire lives, Otto, Matti, Ilkka and Eero Takkunen have been under
the thumb of their tyrannical father who suffers from paranoid schizophrenia.
Drawing inspiration from the Holy Bible the despotic father raises his children
under unrelenting cruelty.
The boys are used to getting more empathy from the animals on their farm
than from the rest of society. Their home has no electricity and they survive on
charity, but they never resort to violence.
When their father is put away into a mental institution, the boys make ends
meet by robbing slot machines. They get by, but hunger for more, and soon
start robbing unmanned gas stations.
Their greatest desire – to be like everyone else – is finally within their reach,
but there are many obstacles on the road to acceptance.
Winner of three Finnish Jussi Awards in 2004
IMDb:
Code:
https://www.imdb.com/title/tt0323551/
Trailer:
Code:
https://www.youtube.com/watch?v=Hm7RNbMu-rg
Download
Oboom:
Code:
https://www.oboom.com/4UNKQK1E/papo-babo.part1.rar
https://www.oboom.com/HX8GQJ2J/papo-babo.part2.rar
https://www.oboom.com/3E6NEO6I/papo-babo.part3.rar
https://www.oboom.com/ZUFM05DU/papo-babo.part4.rar
https://www.oboom.com/7WSHKV75/papo-babo.part5.rar
https://www.oboom.com/8V667CQV/papo-babo.part6.rar
Rapidgator:
Code:
https://rg.to/file/aa86f3ed5565f6ac8f5265f208ac2873/papo-babo.part1.rar.html
https://rg.to/file/07a46a1c90b24e4db110e7536e8bcc0e/papo-babo.part2.rar.html
https://rg.to/file/eecd57848bba49581c5d5e3fa7eafafc/papo-babo.part3.rar.html
https://rg.to/file/56a43003a01ea47a063c33956ba7d0c6/papo-babo.part4.rar.html
https://rg.to/file/d721e996c36381b049f45683ea0127b4/papo-babo.part5.rar.html
https://rg.to/file/31d8d31d381c6e753bd130f66da3325a/papo-babo.part6.rar.html
Share-Online:
Code:
http://www.share-online.biz/dl/EIZQMH5P2E
http://www.share-online.biz/dl/9O5RMH5P0BR
http://www.share-online.biz/dl/N4KSMH5P4P
http://www.share-online.biz/dl/CMJSMH5PHKZ
http://www.share-online.biz/dl/RU6UMH5PLUN
http://www.share-online.biz/dl/PRUVMH5PULX
Zippyshare:
Code:
http://www15.zippyshare.com/v/uK5Tp3vj/file.html
http://www15.zippyshare.com/v/VB2hftZ9/file.html
http://www15.zippyshare.com/v/XNFBxSlw/file.html
http://www15.zippyshare.com/v/gM1cnX9E/file.html
http://www15.zippyshare.com/v/zUek9dzf/file.html
http://www15.zippyshare.com/v/h76B3zOs/file.html